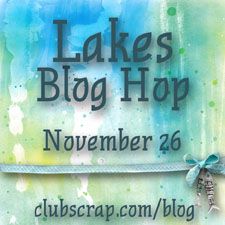 Welcome!   I am excited to participate in the Club Scrap Lakes Blog Hop. If you arrived from Dishing with Janet then you are in the right spot.  If not, you might want to go to Club Scrap Creates and start at the beginning so you don't miss any of the crafty goodness being shared today! Well, let's go!  Leave me a little love below and then be sure to sign up for a FREE spot in my Art Journal 101 Workshop!  Oh and if you LOVE my calendar page I invite you to….
SAVE 25% off of My AMAZING 2015 Goddess Calendar.  Just enter code

VIP2014

at check out.  (Psst…this is my Sweet Black Friday deal…you're the first to know!)
For this blog hop  and going forward, I have decided to do a "Goddess" wall hanging.  It is the perfect way to mesh my art journaling/mixed media with the kits since I find myself scrapbooking a lot less.  Truth be told, the Club Scrap Kits lend themselves quite well to mixed media and art journaling.  The papers are perfect, with gorgeous patterns and then to top that off stamps, stencils and ribbon….art journal heaven!
Let me introduce you to the Goddess of the Sea.  She is significant to me because she symbolizes being brave and loving the sea.  I do not swim and have decided that I must take lessons in 2015.  The first time I tried the instructor threw rings to the bottom of the pool on the first day and said, "Go down and get them, head first, feet up."  What????  Not the instructor for me.  I left immediately and told her I did not think this was the class for me.  That was more than 10 years ago.  I love the beach and will get into the water.  We travel often enough, that I need to revisit this. However, this time with one-on-one instruction and the right instructor for my needs.  It will be a big step for me.  My Goddess of the Sea will always be here to say, "You can do it! "
Here are a few steps I took to make her complete.
The Goddess of the Sea will protect you as you swim.  You can do it! 
Embrace your art, free your soul.
Tiare.
Love This page?  Come take this AWESOME workshop with me!
SIGN UP TODAY

AND SAVE 25%!  

Enter code: VIP2014 

at checkout to save!
 
My AMAZING 2015 Goddess Calendar only $15.95 before discount! What a steal!
SIGN ME UP NOW!